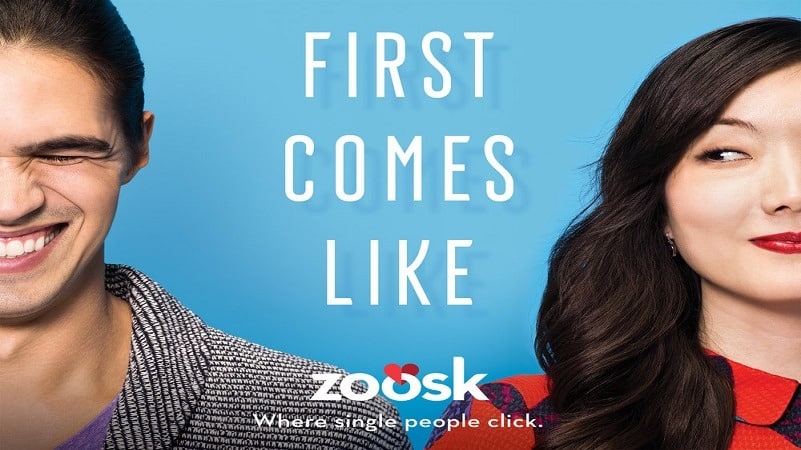 Zoosk.com began as a Facebook application in December 2007. And now it's a global dating site with millions of registered users to its name. Zoosk is a unique dating company on a mission to seamlessly integrate social networking and online dating. The dating website and app provide singles with an intuitive dating experience with affordable and customizable communication tools at their disposal. Zoosk attracts a fairly young crowd of singles looking for casual dates and deep relationships in a fun online environment.
Finding People on the App – Zoosk.com
One major part of Zoosk's appeal is its simplistic, straightforward approach to finding people on the app. You don't have to submit to the Internet equivalent of a psychological examination or fiddle with the interface for hours to get the site working. There's also no home screen, home feed, or any other source of abundant information that falls on you all at once when you're beginning your Zoosk section. Rather, the site and app feature clear-cut sections that display individual profiles one by one.
No matter which part of the site's functionality you're using. With one profile in front of you at all times. There's no confusion about what you're doing. And no irrelevant stuff to distract you from the task at hand. But, despite this focused approach, Zoosk.com is really a chill, low-pressure experience. Navigating between profiles is quick and seamless. So there's no need to take immediate action when you see an appealing person unless you're playing Carousel, which is the site's hot-or-not game.
RELATED ARTICLE: YourTravelMates.com
Frequently Asked Questions
How do you find someone on Zoosk?
After creating your Zoosk account you should be able to use the search feature to find different people according to different criteria that you set up in your search.
Can you message on Zoosk for free?
No you can't read message for free. If you want to read or send any messages, you're going to have to pay for it.
How can I request the deletion of my data from Zoosk?
If you'd like to delete your data from Zoosk, send a request to Zoosk Customer Support team at [email protected].
How to update my information on Zoosk?
Open your web browser,
go to zoosk.com, and log in to your Zoosk account.
Click on your Zoosk display name in the top right corner of your screen.
Select My Profile.
This will take you to your profile where you can view and change your photos, basic information, story, perfect match, and ideal date by clicking the Edit or Add link next to the information you'd like to update.
Is Zoosk have a free trial?
Joining is free for a Zoosk subscription but there still are some limitations to the free version. Zoosk provides a free 30-day trial.
How much cost of Zoosk membership?
Monthly prices listed for a Zoosk subscription is
$12.49/mo for six months.
$19.98/mo for three months.
$29.95/mo for one month.
Is Zoosk worth it?
Modern days online dating website is terrible so everyone is very scared to join a dating site. Zoosk is an excellent choice for modern singles who looking for serious relationships. Most profiles are straightforward and complete, making it easy for you to determine whether the account you are viewing is a match or not.
Why we join Zoosk?
Zoosk is far more efficient! The logical way to sort and meet others you might have an interest in. A good percentage of the member base is active in the site. Members often use the site to look for serious dating and long-term relationships. The matchmaking functionality is excellent.
What are the pros and cons of Zoosk?
Pros
40 million members worldwide
Most members are within the age range of 25-34
Search by age, location, religion, education, height, body type, and more.
Send a like or smile to someone for free.
Cons
Zoosk is very expensive
Zoosk charges a one-time activation fee of $24.95 in addition to subscription cost.
The Auto-Reply system can mislead users
How is Zoosk different from other dating sites?
Zoosk is one of the most popular dating sites in the world. It has a clean design that makes the site really easy to use and interact with other members. The matchmaker functionality that Zoosk offers on its dating platform is different from other dating sites.
Website: www.zoosk com
Phone Number : +1-888-939-6675
Address: 989 Market Street,
San Francisco CA, 94103, US
Reviews
I have recommended time after time
As my family and I were watching Hulu, the most disgusting commercial came on from this site and completely terrified my 5 and 6 year old children! I am extremely disappointed in site for even advertising something so horrific! Really satan with a site?! I have recommended time after time…NEVER AGAIN!
Do NOT waste your time or money on this site
Do NOT waste your time or money on this site. Let's forget about the fact that most of the people on here are mouth breathers who are in desperate need of a bath. 2/3's of the Top Picks on the site are NON-SUBSCRIBERS. If you are a subscriber and message a non subscriber they won't receive your message unless they rejoined or YOU PAY FOR THEM to read it. Stupid. I wasn't happy with their unethical business practices and so I not only canceled my subscription, but I also got a FULL REFUND. I'm sure most people don't think it's possible. Get your $ money back.
If you like dealing with scammers
If you like dealing with scammers and spammers and spend your time perusing the fake profile this is the site for you.
Cheaply designed should be unlawful!
This is a terrible site. Can't personalize your own profile, the search option is a joke, I get men & women who may or may not be actual people. And the very few who are a match are several hundred miles away. I asked for a refund after a couple days of actually using the site and they refused. Also paying 6 months for anything this cheaply designed should be unlawful!.
IT'S TERRIBLE, DON'T JOIN THIS!
This is a scam which posts fake or disturbing profiles & you have no way of browsing! They only let you see the profiles they select! IT'S TERRIBLE, DON'T JOIN THIS!
Load of rubbish
Load of rubbish – don't bother. They give you no notice the free period is about to expire – debit your account and even if you cancel same day they lock you in for a further 6 months. Scam artists
Stay away from this site.
Stay away from this site. It's full of fake accounts and all messages you receive and all chats are with bots. Bots, bots and more bots! Can't get any worse!
Scam scam scam
Scam scam scam. When they don't send you to every other affiliate site of theirs and continue to charge you. The woman on the site send you to bs bogus dating card sites that cost anywhere from $150 to $400 and or request you to get $600 per two night bs hookup rooms. Just a bunch of money mules here
Don't use this app!!!
This app is the worst I didnt have anyone talk to me, I mean damn am I that ugly or something, so I deactivated my account and never received my refund, total rip off!!! Don't use this app!!!
It's just money down
Avoid! I have been blocked for no reason, I have not messaged anybody for months, all of a sudden blocked for breaking guidelines even though I've not messaged anybody Emailed 5 times no response, no number to call, these app companies seem to be able to take your money and block you. I can't discuss with anybody I can't do anything it's just money down the drain.
It's a lot of fake people
It's a lot of fake people here just want to text and never meet you, but finally I found a really gentlemean and I have a beautiful and honest relationship, Thanks
So far... So Good
Most of the people seemed to be truly looking for a relationship… Most of the people were respectful and there were some good catches… I liked the systems they use on this website… And I've met a really good guy… And I hope things will really work out well between us… So far… So Good.
Beware
Beware ! Looks good, however just another money grabbing heist.
This is a really bad dating site.
This is a really bad dating site.
DONT GIVE MONEY
DONT GIVE MONEY. Fake views lead you on into buying a subscription and add ons, so that you can message others and they can message you.
STAY AWAY
STAY AWAY. Preserve your emotions for something else.
I felt a connection
Reading his profile I felt a connection. We chatted thru the site then he gave me his ph no. We spoke to each other and knew we wanted to meet. We meet tomorrow.
Thank you I've found the one
Thank you I've found the one, my best friend! The connection between us is electric, I never thought this would happen! He is the man I've been looking for my entire life! These are the first days of the rest of our lives!
Well easy accessible page
Well easy accessible page easy overview both on PC and mobile and I can only recommend the page to others I was on the site many years ago and Self I return to in my opinion dating page and there is so. Always friendly service of the support and no stupid questions
I met my dream partner
I met my dream partner fell in love and am planning on making her my bride in the near future.
I was recommended this
I was recommended this dating site from one of my friends. I have been looking for a long-term-relationship without any luck for several years … now I have a beautiful and interesting woman in my life.
Perfect match
It was a pleasure to use this website and application, I found the love of my life, a perfect match, not joking! I'm so in love with her! Good luck to everyone who's single or who's looking for a perfect match. Wish you all long life and be loved! This is the most important thing in life! Goodbye!
There is a fairly extensive
There is a fairly extensive search function that lets you filter your results to save time and effort. It makes it very easy to find hot singles in your area that match your specific criteria. There are a lot of different filters that you can use to do this, including age, gender, orientation.
A really easy to use website
A really easy to use website. Provides a great platform for men and women to connect with each other. One of the best websites I have come across recently. Loved it.
I'm very happy this site worked
I'm very happy this site worked. I found what I needed and couldn't be happier all I can say is try it for yourself if you are looking for love it is it there
Wonderful experience
I meet a couple of ladies here. Met on a dated two of them. But then I met a wonderful woman long distance and we decided to become friends. It has been three months and we have decided to meet up and know each other to possibly start a relationship. I'm super excited and looking up to this wonderful experience.
This app is misleading
This app is misleading. You don't know if someone's profile is old or active. I did find someone on here and that's great but I just think there are bugs that need to be fixed on the app
A money grabbing site
A money grabbing site, have to pay at every turn. Site difficult to navigate.Very extremely dissatisfied!!!!!
Was a complete waste of money
Was a complete waste of money. It's constant offers to 'upgrade' for more money. I get emails saying I have 'messages' but when I go to the site, there are none. There are messages saying specific people 'want to meet you' but going there, none. The few messages I've gotten, I've responded to with no reply which makes me think they are not going through. I've tried to contact the company but just go round in circles.
Never pay for a subscription
Never pay for a subscription or you will be very sorry!
BE WARE you never know
Met someone on Zoosk this guy had pictures sounded like he was prince charming the whole nine yards, turned out he was on Zoosk to meet someone and then scam them out of your money! Yes I was stupid enough to fall for it, I lost $6000 to this bonehead. So girls always be extremely nosey this person whoever he was pretended to be in the Army which makes the rest of the men and women in the Army look bad. BE WARE you never know. I posted this with hopes no one will fall for this.
Avoid this site!!!
My mother used zoosk and has now passed away they took 100's of pounds on here credit card, tried to close her account but you cannot deactivate an account without cancelling subscription. there is nowhere on the site to cancel subscription and no way of removing credit cards, once they have your card they will not let go beware and avoid this site!!!
Hope this helped.
I wasted my money on this site. If you create your free profile to test the waters they will send you a bunch of fake girls trying to entice you to sign-up. DONT DO IT. The girls are fake and the messages are generic to lure you in. This was money thrown away. Hope this helped.
Old profiles
Old profiles.I consider myself to be average good-looking guy, unfortunately I've moved to a new area and really do not know anyone so I figured I'd try Zoosk. 4 months later I've probably sent over a hundred messages and have not received one reply nor have they even looked at my profile in the views. I don't believe a good percentage of these people are actually on Zoosk I think they just leave the profiles open and it's a big waste of time. I will not renew.