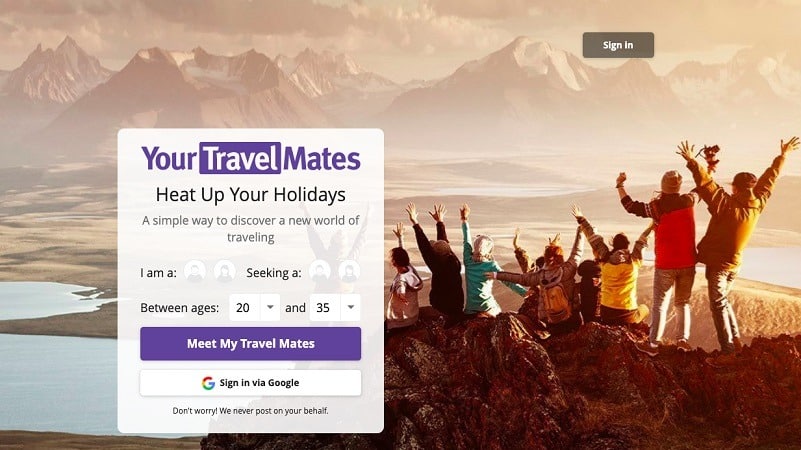 Do you consider yourself a travel freak? What do you feel like not even a single friend or relative is there who can understand your passion and support you? Do you want to have the feeling when someone is there with you and sharing the same interest while traveling? If yes, Yourtravelmates.com is the platform especially developed for all travel enthusiasts out there.
It might appear to be a travel dating platform online, but the concept is whole new different, and you just need to understand it. Here we will be going to share the Yourtravelmates.com review to make things more clear for you.

About YourTravelMates.com Platform:
Yourtravelmates is a platform that was launched back in 1993 for all those people who want to connect with people having the same interest. Basically, for all the travelers, it is a community where they can discover multiple places, plan trips and have a travel buddy available with them. On this portal, a user will be able to share their memorable moments and contribute to the travel community. Also in case, they are looking forward to finding someone who is interested in traveling and help them to gather information about the local place, they can connect with them. It motivates and inspires travelers to have trips and have some recommendations as well from other travelers around. They can find out the travel business and get an idea whether they are interested in traveling with you or not.
How YourTravelMates.com Portal Works?
Yourtravelmates.com portal will be going to a dating portal for you. You might feel like how you can connect traveling with dating, but this is the truth. The developers let you connect with people over the globe and help you to get an answer whether they are interested in traveling or not. In case you are not a travel enthusiast at that moment as well, you can make your account and engage with people across the globe. They will help you in understanding their interest and make you feel occupied as well. There will be no need for you to feel lonely anymore at all.
Some people have the habit where they want to communicate with people but don't want it to happen in real life. At that time, they consider a digital platform to have it. By keeping the same in mind, this Yourtravelmates.com portal comes into consideration, and people consider it as a dating portal. It serves you with Global dating, which clearly means that there will be no need for you to step outside and start knowing someone personally. You can create your account and enjoy it.
How to Perform the Registration?
When you are looking forward to performing the registration, the steps are quite simple to follow. These are as we are providing:-
At the very first, you need to visit the official website of
Now on the main page, hit on the Create an Account
When you hit on it, a new page will appear where it will ask for performing the login, and you can perform the login with the help of a Google account.
It will ask for Google account details, mention the same.
Now you can simply complete the further procedure enjoy sharing your experience with others and find out your travel buddies.
Note: It is important for an individual to be sure about the terms and conditions of the portal because in case they have missed on to it, the developers will terminate the account, and then they need to forget about online dating and sharing travel experience here.
Is it Safe to Use YourTravelMates.com?
There is no doubt this portal is safe to use. The developers keep an eye on every posted content and the profiles created. Without verifying the profile, they do not allow the individual to post about their experience. Moreover, in case someone has created any trouble or let the developers feel anxious about their activities, they terminate their account immediately.
This portal doesn't allow anyone to peep into the privacy of other individuals until and unless they want. If you are ready to share your information with others, then only information will be shared; otherwise, there will be no such trouble in any case.
YourTravelMates.com – Is it Free to Use the Portal?
Yourtravelmates.com is a portal free to use. When a user wants to become a member, they need to qualify for a free member test. They need to provide quality content on their profile, including videos, photos, and profile descriptions. Also, users will be able to activate their accounts by following the community policy for free members. Every gender option is available, but they need to check out whether the portal is available in their country or not. An individual must be at least 18 years of age when they are performing the login.
Is it Right to Consider a Secure Dating Platform?
There is no doubt in the fact that security is at its best on this portal. A user will not be going to face any kind of nuisance because the portal is following all the legal regulations governing International dating. They never provide the personal contact information of one member to another, and this is totally the choice of members whether they want to share their contact details with other individuals or not.
RELATED ARTICLE: Dating.com
Frequently Asked Questions
How to register on YourTravelMates.com?
There are two easy options to follow when joining YourTravelMates.com:
Register with your Facebook member account.
Fill out the registration form using your email.
To do so, just choose the option Sign in with Email and
hit the Create your Account button.
If this link is not visible then it's because you have already joined.
Can I register free on YourTravelMates.com?
Yes, you can join YourTravelMates.com with no charge at all.
How to Pay for YourTravelMates?
The pop up with payment details appears when you start chatting. It offers to buy 20, 160 or 1000 credits.
The rule is simple:
one message equals one credit, or one minute of live chat costs one credit as well.
One credit costs from 15 up to 60 cents depending on the offer.
What is Anti Scam policy on YourTravelMates?
Scammers are filtered by personal check of every account. It makes the platform a truly safe place for those who are looking for travel mates. YourTravelMates doesn't allow you to establish any contacts with members without buying credits. It protects existing users from scammers' attacks.
What is YourTravelMates?
YourTravelMates dating site is a place where a selection of beautiful pictures of ladies meets you on the home page.
They are smiling, happy and seem to be friendly.
What Payment method used on YourTravelMates.com?
YourTravelMates accepts only credit cards.
How to delete YourTravelMates account?
The account deletion process is simple. Users who no longer wish to continue online dating through YourTravelMates can delete their profiles by contacting the YourTravelMates customer service team via a contact form found on the site.
Is YourTravelMates expensive?
In comparison to other providers YourTravelMates is expensive.
How to contact YourTravelMates support team?
You can contact YourTravelMates at any time via su[email protected] with any questions or enquiries.
What are the details a person needs to provide for performing the login?
For performing the login user requires their Google account, and rest they need to follow the on-screen mentioned instructions.
Why Yourtravelmates is a secure platform to date online?
Yourtravelmates is a secure platform to date online because the developers are keeping each and every factor into consideration and let individuals connect with the people by having the same in mind. It is not important to share any personal details because they do not want to own any right over it.
Conclusion:
Finally, there is a platform that will help you to get a partner while traveling and partners with whom you can share your personal thing as well. It is the best online dating platform because Yourtravelmates.com has each and every feature contributing to the same. Without wasting even a second, just be aware of it and perform the login.
Website: https://www.yourtravelmates com
Phone Number: +1-888-985-0020
Address: 10 Anson Road #05-17, International Plaza,
Singapore (079903)
Reviews
Literally the worst customer Service ever
Literally the worst customer Service ever! I have sent over a dozen requests stating I am having issues getting in to view my account, with no response back. They say to wait 24-48 hours. This has been going on for weeks. They had no problem taking my money, though. I recommend using a site that has a responsive customer service department.
The biggest mistake I ever made
The biggest mistake I ever made. They only give you limited access of what you can do to your account THAT YOU PAY FOR. They need to do a better background on these people. They need to have a way for you to unlike someone if you change your mind about them. They also need to give you more time to decide if you like their -website- two days just isn't enough time. You're stuck with the payment if you decided that you changed your mind. There's way too much to for me to say.
They have auto email responses
They have auto email responses. Not a real person to help answer your questions. They don't check very thouroughly because someone hacked my info and set up shop on this website.
This is a horrible site
This is a horrible site Again I can't seem to submit this review. I was here before and I'm seeing the same exact profiles. There are only a handful of profiles that I am matched with. Most of my matches are in another state. It doesn't matter if you put a 50 mile radius maximum. You will be matched with anyone and it's so random. The site is full of scam and fake profiles. Stay away from the site. It's a waste of your hard earned money.
I need to get a refund
I have yet to have a match in the same state as where I live and not one of their so called matches will reply to me.When I requested a refund I received a runaround and still don't have the information I need to get a refund from them.
This site is simply not worth the money
This site is simply not worth the money. The premium version is pointless because you cannot contact anyone. The premium version as not as good as the fremium service offered by dating apps Hinge, Bumble or Tinder. My contract was automatically renewed according to the terms and conditions even though I was barely using the service. There is no way of speaking to customer services and they do not refund or allow you to cancel. In this day and age such poor customer service is almost unheard of.
This site is such a bad deal
This site is such a bad deal. Never ever join this site if I was there when their ass was on fire I would not waste my piss to put it out. Never ever sign up at this site..
I just cancelled my membership
I just cancelled my membership so I asked them to speak to an manager or supervisor they play on the line for about 10 mins then hung up on me. So if I get charged for any of there other services I let it be known I will be doing a lawsuit I'm not playing. When you have no membership all the so called ladies are in ya inbox but when you get a membership you don't see nun of em it's all fake.
What a load of rubbish
What a load of rubbish save your money, waste of time all fake profiles take your money and try to extort more or of you. Messaged loads of profiles never got a reply, load of crap. Keep well at from. Save you money and try more reputable sites.
Be very careful
I would give this zero stars if I could. First of all why are you not allowed to hide your location? As a woman especially this makes you extremely vulnerable to creepy men who think it's a good idea to hunt you down. ( Yes we're living in the real world after all, not fairytale world ) second of all why can I not log into my account anywhere?! There is no log in anywhere to be found on any website. All I want to do is to delete my account since I'm being inundated by creepy men I never ever want to sleep with and who are disgusting predators and a danger to all poor ladies out there. I'm very upset to still have my profile on there, and I can't find a way to delete it or log on into this account anymore. Ladies! Please be warned there's so many narcs on this app and men who have severe issues ( groomers into pedophilia, serial cheaters and exploiters and users. Be very careful. I would like my profile deleted now please.
I have to admit
I have to admit, I was only on this dating site for a week, but I guess I got lucky because I meet a special person and I guess it would have never happened if it wasn't for trying this site.
Please stop sending automated messages
Please stop sending automated messages that seem like they are from the person you liked.
Not refund my money
They charged me for another 6 months without my consent when I contacted the third party, I was told that they would not refund my money.
This site is such bull
This site is such bull. Try getting customer service on the line for a variety of issues that cannot be rectified on line through their "HELP" page and I give you credit.
This is a total scam
This is a total scam. I paid to join because the profile I put up received messages indicating interest from reasonably attractive females. After I paid I found out they had never sent the message.
Horrible dating service
Horrible dating service, horrible customer service, would never use again.
It was recommended to me
It was recommended to me as a dating site that should meet my needs, & it did. I met my partner on this site after having the opportunity to meet quite a few guys.
All good. Happy with the outcome
All good. Happy with the outcome. Easy to use. Though seemed a lot of the ladies were perhaps just looking for frequent dates and not so interested in long term relationships. I was lucky I that I found a very special one
Very good way to meet
Very good way to meet new people and maybe new beginings
This site has been very helpful
This site has been very helpful in lonely times.It helped me a lot to stay connected with a partner and kept me busy.Wonderful site it and it does have a very easy and beautiful interface.The best thing about this site was it contains real people and no bots.I highly recommend it to anyone.!Cheers!
I hope this works out for me
I have used it for a while and met someone here, she is nice. Looks like I have finally found someone I would like to go ahead with. I hope this works out for me. I really really want to be lucky this time.
I love it !!!
I must say that if you are looking for the easiest way to meet a girl
Very useful & easy to use
This is a very great and useful platform specially for the girls and lonely womans. They can easily connect someone she wants. It is a great site for all the dating lovers. very useful & easy to use .
It is neat and clear
The website has many positive points. It is neat and clear, the navigation is proper, and, there are plenty of profiles to choose from. People on this website are nice, and friendly. I have been on several dates through this website, and, all have been great.
Good site I have used several
Good site I have used several. This is one of the good ones. But I could do without the unlocking matches for coins part when im already a full paying member
This is the best site
You do have to be careful, don't give out to much about your self. There are some wonderful ladies out there, I found one. This is the best site I have seen. Good luck to all the men.
Be very careful!
Be very careful! They are misleading from the beginning. What you request when you originally sign up for is not what you get.
Don't go to this website
Once they get your money, they don't care. If you want a dating site, don't go to this website.
Absolutely nothing
I am not prefect for everyone, but absolutely nothing is pretty bad.
I am extremely disappointed
I am extremely disappointed in my experience at YourTravelMates.com
Thumbs down to YourTravelMates.com!
Thumbs down to YourTravelMates.com! How can a meaningful connection occur when it starts with a yes or no based only on appearance in one photo? Terrible, inhumane idea!
Yourtravelmates is full of fake profiles
Took money from my credit card without approval and then they didn't respond to my several attempts to contact them. The site is full of fake profiles.