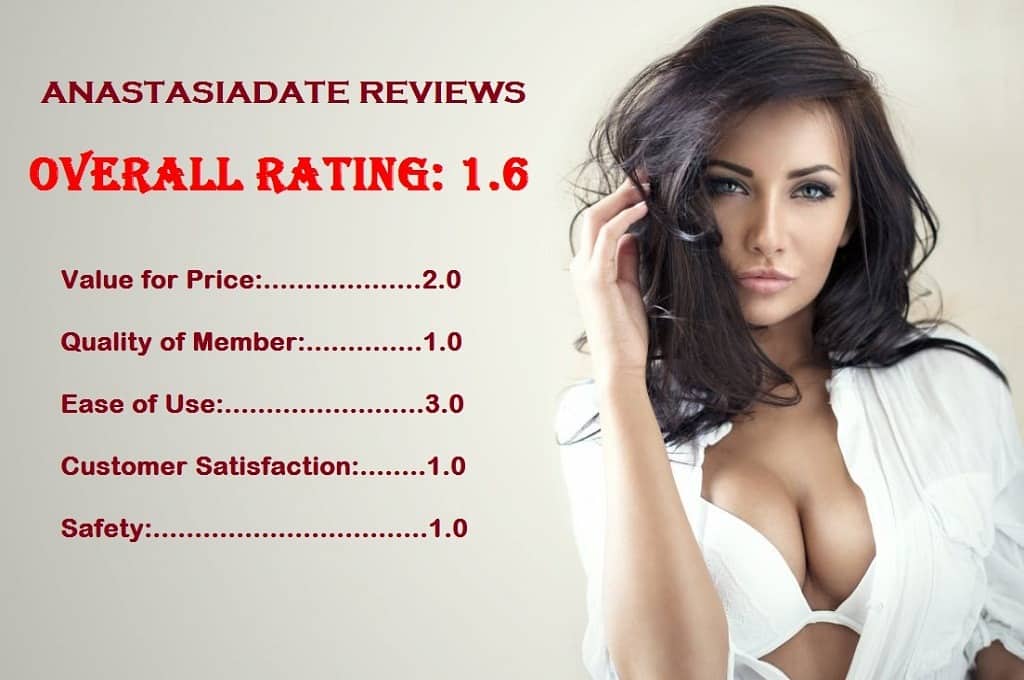 AnastasiaDate.com Review:
           1.6/10     Overall Rating
---
                             2.0                            Value for Price
---
                             1.0                            Quality of Member
---
                             3.0                            Ease of Use
---
                             1.0                            Customer Satisfaction
---
                             1.0                            Safety 
---
Visit: AnastasiaDate.com
Pros & Cons
Pros

               
---
+ Good for passing time
---
+ You may get to chat with Russian beauties
---
+ 1 out of 10 genuine
---
Cons
---
– Money money money!
---
– People are just useless
---
– Site is sham
---
The AnastasiaDate.com Review
Editor's Summary – AnastasiaDate.com Review
I use to believe that dating sites are pretty cool where you can actually find genuine people and maybe your life partner one day. But these days, I suppose dating sites do not believe in such a concept, all they do is make money for themselves. I am afraid to tell you but AnastasiaDate.com is one such site that plays with people's emotions just to make extra bucks.
In-Depth
Sign Up Process
So here is the fun part. You open this site, and they ask to sign up. Make sure you opt for a free trial first. The free trial will help you whether this site is worth your time or not. Honestly, it's not! But I want you to have a feel of it. I lost too much of my money on this site just on translating stupid letters which I am not even sure as written by a genuine person or not.
Buying credits is not a new concept and I am sure people using dating sites are aware of the entire ball game. You will be surprised to understand that every single chat entry needs to be paid for. You will be asked to use credits in your account for any and every move you make on the site.
Members and Messaging – AnastasiaDate.com Review
Let me ask you a question: If you are chatting with a wonderful English-speaking Columbia woman on this site and she sends you a letter on the site, what language will that letter be written in? Well, I thought of English too! But guess what, the site asked me to buy the credits in order to translate the letter from some language to English. I was like how is that even possible?
RELATED ARTICLE: To Give You a Thought of How Awful AnastasiaDate is I Will Utilize a Model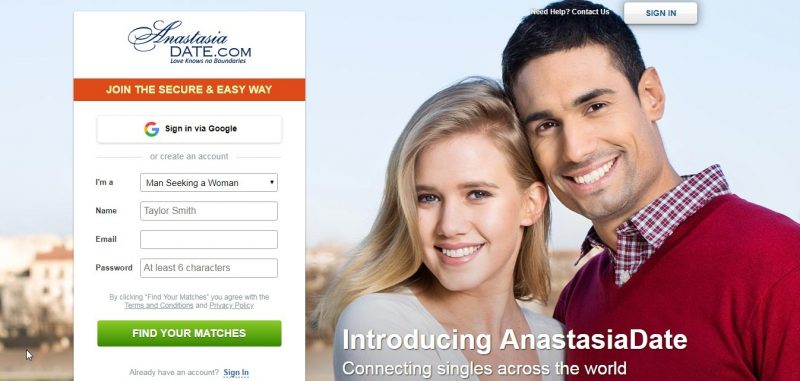 We both were chatting in English then why would she write a letter to me in some other language. And well, I did not buy the credits to read that letter, and to date, I am not able to find that girl again on the site. I suppose it explains a lot about whether the site is genuine or not.
Key Features
Features work like on any other dating site. But I am not comfortable spending too much on the same. They have features where you can voice call with the person, maybe video chat and they also set you up on a real date with the woman. But the last feature does not really work out because apparently every time, the girl is not interested.
Safety and Security – AnastasiaDate.com Review
In my opinion, safety and security matter the most if a woman signs up on the site. And if you feel that you are not feeling safe chatting with other men, please delete your account at that time itself. If you do not feel confident about chatting with people, then just don't! In the end, it's the world of technology, where nothing is hidden, and your data and chats are being saved in some cloud. So be very careful.
Main Competitor – AnastasiaDate.com Review
Pricing
Imply fee to keep with different – AnastasiaDate.com Review
AnastasiaDate.com doesn't use a standard month-to-month part structure. Or perhaps, customers purchase credit to possess the aptitude to induce to all or any the functions of the website online. as an example, to possess a glance at or speak one thing specific or see a video, a bit must surrender ten credit.
---
     20 Credits                                                                                                                                                        $15.99
---
     40 Credits                                                                                                                                                        $30.00
---
     80 Credits                                                                                                                                                        $56.00
---
     160 Credits                                                                                                                                                      $96.00
---
     320 Credits                                                                                                                                                    $185.00
---
     500 Credits                                                                                                                                                    $249.00
---
     1000 Credits                                                                                                                                                  $399.00
---
Visit: AnastasiaDate.com